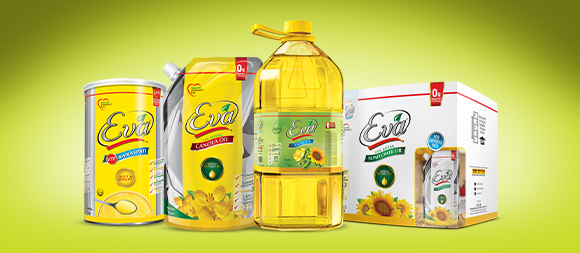 Our Products
Eva is the purest cooking oil which offers the best for your health and nutrition requirements. It brings out the natural flavour and aroma of any recipe to the fullest and comes in a revolutionary convenient and hygienic packaging.
Eva contains the lowest amount of saturated fatty acids, which are among the major dietary sources of Low Density Lipoprotein (LDL) bad cholesterol, which is strongly related to coronary heart diseases. It also contains Omega-3 fatty acids, which is an essential nutrient (not produced within the body and provided only through dietary intake) and may help prevent heart diseases.
Extracted from the finest oil seeds, selected from around the world and after going through a meticulous refining process, Eva Cooking Oil brings out the natural taste of all recipes to the fullest and does not suppress the flavour and aroma of even the most delicately flavoured dishes.
Eva is processed at a state-of-the-art continuous refining plant using European technology, which is as advanced as the technology employed anywhere in the world. The process ensures optimum purification and that every drop of oil gets uniformly treated, resulting in quality and consistency that simply cannot be achieved through conventional processing.
Eva is treated at Ultra High Temperature (UHT) under carefully controlled and monitored system, which provides optimum purification, removes odour utterly and renders longer shelf-life.
The Easy-Open Tins and Stand-up capped pouches introduced by Eva are not less than a revolution for their convenience and hygienic benefits. Conventional tins and pouches are not only a hassle to open and keep, but also are health hazards.
That's the reason why Eva…
is absolutely pure and completely odourless.
does not freeze even at zero degree temperature.
contains the lowest amount of saturated fatty acids among its class.
Eva Cooking Oil…
Eva Cooking oil is a healthy blend of canola and soybean/sunflower oils that gives it the most balanced nutritional profile. Read More
Eva Canola Oil….
Eva Canola oil contains only 7% saturated fatty acids; about half the level present in corn oil, olive oil and soybean oil and about one-quarter the level present in cottonseed oil, which it is called a 'heart-friendly oil'. Read More
Eva Sunflower Oil….
Eva Sunflower Oil is freshly extracted from seeds and contains healthy unsaturated fat plus essential nutrients that help keep your body in peak health. Read More